Wind Speed and Direction
We offer a range of wind speed and direction sensors, anemometers and wind vanes for use in meteorological, air quality and wind power applications. All of our wind speed and direction sensors are fully compatible with our data loggers and wireless telemetry systems.
WIN Windspeed and Direction Sensor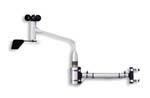 The WIN Wind Speed and Direction sensor is constructed around an AC generator (without brushes) and a rectifier, and all external sensor parts are made of highly resistive plastics.
Pro10 WMO Wind Sensor Set Pro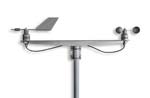 The professional Pro10 windspeed and direction sensor set has been designed by one of Germany's most reputed sensor manufacturers and meets WMO standards. The housings of both sensors are made of anodized aluminium, which is extremely robust and seawater resistant.