Abstract
RS Hydro was contacted by Bristol University with a challenge. They wanted to know if it was possible to monitor water quality of melt water from the bed of a glacier in Greenland.
Equipment Used
The Isco Avalanche Sampler and the Eureka Manta 2.
Background
Bristol University contacted RS Hydro with a requirement to monitor the melt water from the bed of Leverett Glacier in Greenland. The main aim of the study was to monitor biochemical and microbiological changes in the runoff with focus on the relationship between these changes in sub glacial drainage systems and ice sheet movements.
To perform the study, the researchers required an accurate automatic water sampler and multi parameter water quality sensor which could survive in such a harsh environment under difficult monitoring conditions.
The Solution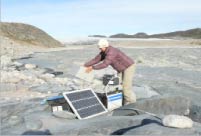 To carry out the sampling of the melt water from the glacier, the Isco Avalanche Sampler was the unit selected. The Avalanche Sampler was chosen for the sampling project due to its ability to supply refrigerated sampling whilst utilising power through a 12VDC source and solar power configuration. The temperature control system feature of the Avalanche ensures that collected samples do not exceed a temperature of 3°C.
The Eureka Manta 2 Sonde was selected as the multi parameter water quality instrument. The Manta 2 water quality probe was chosen down to its ease of use and reliability to operate in harsh waters.
During the trial, the multi parameter sonde was tethered in a cage in turbid waters. In these types of conditions it may be expected that the reliability of the instrument may be in question, however the researchers were happy to leave the sensor in the turbid river at all times.
Results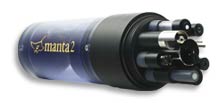 Although the project is still ongoing, the results gathered by the Isco Avalanche sampler and the Eureka Environmental Manta 2 have provided accurate and reliable information to help monitor and understand the changing conditions found in sub glacial drainage systems. Research members highlighted amongst the feedback, how the benefit of remote sampling and water quality monitoring has been indicative to the researchers achieving greater resolution during hydrological changes, which they had not been able to achieve with manual sampling and water quality monitoring.