addVANTAGE Pro 6.3 and LiveData2 Release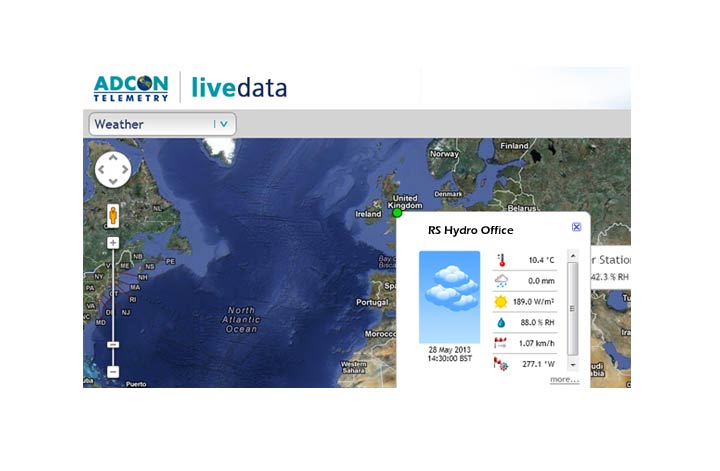 addVANTAGE Pro 6.3 for FlowView is here. It includes a much more powerful, informative and user-friendly version of Livedata, and three powerful new extensions.
Livedata 2 - from any mobile device - laptops, iPads, iPhones and SmartPhones!
The main goal of addVANTAGE Pro 6.3 was to focus on data delivery and how to give as many users as possible easy access to as much data as possible. The original LiveData only presented raw data but LiveData 2 goes far beyond the original remit. It now includes all statistical trends, diagnostics and derived parameters. LiveData 2 also has a more intuitive user navigation. A pull down list of station types allows the user to select between weather stations, hydrometric stations or indeed pump stations. It is therefore possible to view a whole country of monitoring stations on a Google Map and visually check their status within seconds. Obviously automated alarms and control are a standard feature of addVANTAGE Pro.
New Extensions
Sunshine duration ("SD")
Sunshine duration can either be measured with a special, dedicated sensor or it can be calculated using the output of a pyranometer. addVANTAGE Pro includes two methods of calculating sunshine duration: (1) a simple threshold method, and a much more complex formula, developed by Hinssen-Knapp, the output of which comes very close to the output of a dedicated SD sensor.
New Formula Calculation Extension
Computations between sensors can be essential in certain environments ie the calculation of leakage or unaccounted flow between two flow meters or the difference between two temperature sensors. The new formula calculation allows users to work with a wide range of formulas incorporating up to 9 sensors from any network
Contact RS Hydro for information or pricing on addVANTAGE Pro or on an upgrade on 01527 882060 or sales@rshydro.co.uk
28th May 2013