Sign up to the most recent webinar from Teledyne ISCO!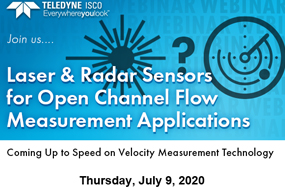 On Thursday 9th July Teledyne ISCO is holding a Laser & Radar Sensors for Open Channel Measurement Applications Webinar.
For open-channel installations, non-contact velocity measurement based on laser or radar is often more flexible and cost-effective than physical structures such as flumes and weirs. A strong understanding of the differences between lased-based and radar-based flow measurement systems is necessary for choosing the right non-contact technology best suited to your application.
The webinar will be a 45 minute presentation followed by an interactive Q&A session, it will be conducted by Rick Dey and Darrell Kuta, who both have more than 25 years experience in open channel flow measurements, and will discuss the most important considerations and provide practical insights on the following key topics:
• Velocity measurement technologies overview
• Surface vs. sub-surface velocity measurement
• System installation, safety concerns, and maintenance costs
• Fixed vs. portable flowmeters/loggers
• The impact of self-diagnostic capabilities on predicting preventive maintenance schedules
• Post-installation support
From this webinar you will gain a clear understanding of both technologies and the benefits of noncontact open channel flowmeters.
You can sign up for the webinar at your preferred time below:
1 PM BST:
HERE
7 PM BST:
HERE
2 AM BST:
HERE
30th Jun 2020