PT878 Portable Flow Meter Offer - FREE Thickness Gauge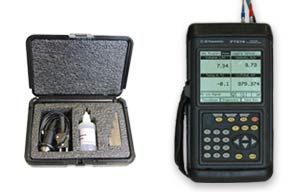 Dear Customer,
We are pleased to offer you a special end of year PT878 promotion. With every PT878 complete system* purchase between now and the 31st March 2016 you will receive a thickness gauge free of charge worth £390**. All PT878 systems now include PanaView Software at no extra cost.***
The Panametrics PT878 clamp on ultrasonic flow meter can be used to measure all types of applications such as clean water, wastewater, water/glycol mix, oils and chemicals. The PT878 can be used on pipes ranging between 1/2"-300" without disrupting the flow. With data-logging capabilities, the PT878 can log up to 100,000 data points which can be downloaded to PC and exported to an excel format. This clamp on meter can also be used to measure cooling and heating systems, when combined with an energy kit. The PT878 is quick and easy to install and is the ultimate non invasive flowmeter on the market.

RS Hydro boasts the largest rental fleet in the UK with over 25 flow meters! We offer a rental service available for next day delivery if order is placed before 12 midday. We are proud to provide technical support throughout your hire and even offer an installation service by an experienced field engineer.

Please click on this link to take a look at our case studies for flow applications
http://www.rshydro.co.uk/case-studies/flow-pipe-liquid/.

If you are interested in receiving a quotation or further details please email sales@rshydro.co.uk quoting "PT878 PROMO 16" or call us on 01527 882060 and press option one for sales.
Yours Sincerely,

Chloe Woodfield
Inside Sales Coordinator

Telephone: 01527 882060
Email: chloe.woodfield@rshydro.co.uk

* Offer applies to PT878 transport liquid systems with either CFLP's, CRS-402's/CRS-401's or high temperature transducer kit, clamping fixture, power cord and carry case.
**Receive a free Dual element 5mhz thickness gauge with calibration block and glycerin couplant. Offer valid on orders placed before 31st March 2016. Thickness gauge £590 when sold separately
***PanaView was £520 .

24th Feb 2016