RS Hydro, IAH Ireland 2014.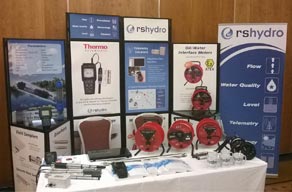 RS Hydro were exhibiting again at the popular IAH conference in Tullamore. Split across two days at the Tullamore Court Hotel this event draws in many of our clients new and existing and provides a great opportunity to network with new people and to listen to some of the excellent talks by Hydrogeologists from all over the country.
This year we had a mix of products on display from water quality to groundwater. We received great interest in all of our products and had some excellent feedback from our Irish customers of their experiences in using them over the years. We also enjoyed seeing one of our water level meters being used in the practical sessions.
Myself and Ed handed out Bio Bailers on the last day filled with chocolates to some of the lucky delegates who were quick enough, needless to say they were very popular and vanished almost as quickly as normal bailers! This signified the beginning of the new
groundwater consumables range
which is available from us now.
A big thank you to the International Association of Hydrogeologists, The Hotel and our Customers. We are looking forward to IAH 2015!
Ryan Cox
17th Apr 2014