New Solinst 102 Water Level Meter Cable Upgrade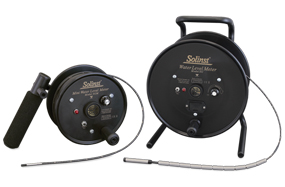 The Solinst Model 102 Water Level Meter cable has been upgraded to a new narrow, yellow, laser-marked cable.
The 102 previously featured a heavy duty jacket and stainless steel coaxial conductors, with permanent markings on the cable are precisely laser etched on at each millimetre or every 1/100 ft. The new upgraded 102 meter features a narrower cable with a heavy-duty polyurethane jacket, this makes the new and upgraded cable extremely durable and extra abrasion-resistant as well as flexible.
The new yellow cable is distinctly laser-marked each millimetre or every 1/100ft, which offers more visibility in the field. Both the standard sized 102 meter and the 102M Mini Water Level Meter with new cables have the option of a narrow 4mm diameter P4 probe, or a weighted 10mm P10 probe.
You can view it on our website here:
2nd Mar 2020