Solinst End of Year Dip Meter Promotion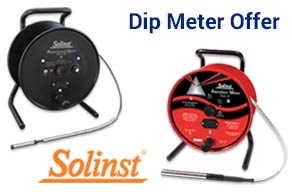 Dear Customer,
We are pleased to announce a limited time promotion on our Solinst Water Level Meter range until 31st March 2016.
Solinst have been manufacturing high quality water level meters for over 30 years. Recognised worldwide by their signature red face plates and white tapes this was one of the first products Solinst released.
Many revisions have taken place over the years and the meters we see today have leading features and maintain the same high quality construction and reliability.
Top Ten Features;
1. 3 Year Manufacturer warranty*
2. Metric and Imperial Markings available.
3. All in house design and manufacture at Solinst Canada.
4. ATEX Rated Interface Meter range.
5. Clear and transparent repair costs from RS Hydro, all parts can be purchase individually.
6. Laser Marked, Indelible PVDF tapes on the 101, 107 & 122 Range.
7. Low cost option available in 30, 60 and 100m lengths in the 101B Range.
8. Small Diameter cable available in the 102 Series for narrow and challenging applications.
9. Strong field friendly carry bags.
10. Competitive pricing.
Offer One**
Buy any new Level Meter from the 101,
102
or
101B
Range and receive a free carry case and free delivery to your office or site.
Offer Two**
Buy an ATEX rated 122 Interface Meter or 107 TLC Meter and receive a free bag, free delivery and a free bottle of Decon 90 for decontamination.
Offer Three**
Buy two or more
101
,
122
or
107
Meters online and receive up to 15% discount.
If you are interested in receiving a quotation or further details please email
sales@rshydro.co.uk
quoting "DIPMETERPROMO16" or call us on 01527882060 and press option one for sales.
*101B Basic Water Level Meter is 1 year Warranty.
** One offer per customer. Offer valid until 31st March 2016
Yours Sincerely,
Ryan Cox
Groundwater Sales Manager
Mobile: 07711466404
Telephone: 01527882060
Email:
Ryan.Cox@rshydro.co.uk
16th Mar 2016