Take the guess work out of your pH electrode selection!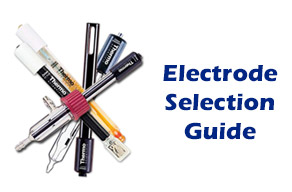 The new Thermo Scientific Orion pH selection guide is a simple step through interactive tool to help you make a selection of a pH electrode for your laboratory, process or environmental application.
It is simple to use and aims to provide the customer with different options based on :


Application


The material of construction


Temperature compensation


Sample size


The guide reduces the time spent researching a suitable pH electrode, providing a handful of sensors suitable for your application.
Also included in the selection are ROSS electrodes, which are known for their high accuracy and response in the most difficult of pH measurement application.
For more information please follow the following link :
http://orionelectrodes.thermoscientific.com/
To ensure your enquiry is supported by RS Hydro, please contact your RS Hydro representative below once your selection is made or alternatively if you request a quote within the selection guide please ensure you reference "RS Hydro" within the comment section of the request form.
Please contact our following representative for more information :
Edward Lang
Sales Manager - Water Quality Solutions
Tel: 01527 882060
Mobile: 07528754807
Email: ed.lang@rshydro.co.uk
4th Jun 2014