Waterloo Hydrogeologic Student License Discount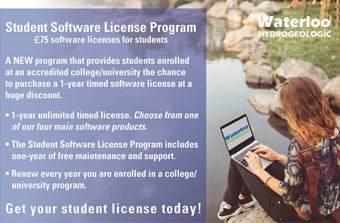 All students deserve a good deal, right? We are pleased to introduce Waterloo Hydrogeologicís NEW Student Software License Program ,
This new program provides students currently enrolled at an accredited college/university the opportunity to purchase a 1-year timed license of our
four main products
at a huge discount. Software listed up to £5000 for only £75, please help spread the word, itís a perfect option for students who need access to a software license for research projects and/or theses.
The purchase of this timed student license includes one year of free maintenance. This ensures that you are eligible for unlimited technical support and can upgrade to any versions or builds released during that time.
Of course, anyone else affiliated with an academic institution will still be eligible for our other academic discounts, including a 50% discount on a permanent research license, the classroom pack licenses (one standalone and a 10-user network license for the price of one) and the C-Pak-Flex package (unlimited use licensing for our four core products, annual subscription).
The protection and sustainability of the world's precious groundwater resources are dependant on the important work that our academic partners produce, and we are proud to take part in this way.
You can find more information about the student licensing program and other academic discount options by
contacting us.
1st Jun 2017