R S Hydro are a long established and extremely successful company providing world leading water monitoring services to the environmental and industrial sectors. We are looking for an enthusiastic individual to join the Marketing team.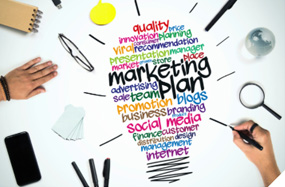 We are looking for an experienced B2B marketing professional to create and deliver a brand-building marketing plan focussing on the water & environmental sectors. RS Hydro provide industry leading technical solutions in the UK and overseas covering diverse applications for the Water, Environmental, Industrial & Process Industries, IOT & Integrated Monitoring sectors. We are in a period of rapid global growth and expansion and are making this strategic appointment to facilitate this. The successful candidate will play a pivotal role in shaping the future of the company and leading growth through our marketing channels.
The Marketing Manager Role:
To capitalise on the potential growth, the company require an experienced Marketing Manager with passion, flair and the ability to spearhead all marketing activities and also to work with our global network of distributors. The right candidate will be responsible for defining and implementing a marketing strategy which will encompass digital and traditional marketing activities whilst also being responsible for existing marketing personnel within the group. This will include working with the MD, Sales Director, sales teams and distributors.

The role is both strategic and hands on. It will deal with the structuring of the marketing function and the implementation of campaigns and ongoing market focus. The candidates "take" on the role will be critical. They will spend time working with the MD and Sales Director to agree the promotional look and feel of the company's offerings. They will need to be an innovative thinker with an attention to detail. A good business marketing acumen and have a systematic approach to creating and executing plans.
Requirements:
Ability to help define and implement a Marketing Strategy
Brand Marketing Experience
Ability to monitor the effectiveness of marketing plans/campaigns and respond accordingly
A 'head for business' and the ability to demonstrate ROI
Creative thinker
Strong Digital Marketing skills (including social media) with experience
Highly organised with project management skills and an ability to manage and work with a team
Experience:
Minimum of 6 years marketing experience

Corporate Benefits:
Excellent salary and package
Annual bonus scheme
Flexible working - a mixture of home and office based
Career progression and development opportunities
Health Insurance

If you think that you are suitable for this Marketing Manager role and that you would like to help improve our water environment, please send your CV to careers@rshydro.co.uk.