Flow Meters for ALL Applications
RS Hydro is one of the leading suppliers of flow meters in the UK across a wide range of flow measurement applications covering all liquid flow meters, gas flow meters and open channel flow meters. Our flow measurement experience is extensive: not only do we offer flow meter sales, flow meter rental and flow meter calibration services but also a comprehensive installation and support service in the UK and overseas. Through this extensive flow meter experience we guarantee to bring you expert advice, experience and support in any flow measurement application. We are renowned for tackling difficult flow measurement applications and can offer bespoke flow meter packages ranging from off-the-shelf systems to national and international flow meter installation projects. Our promise to you is that you will receive best advice based on actual experience not text books...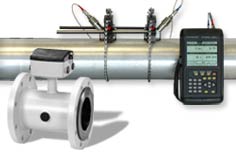 RS Hydro provide a full range of flow meters for measuring water and liquids in pipes up to 8000mm in diameter. These include electromagnetic, inline and clamp on ultrasonic flow meters, turbine and heat meters. We offer sales, hire, calibration and installation services.
Browse Pipe Flowmeters >>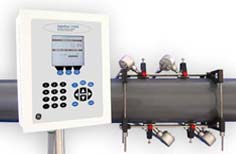 RS Hydro are internationally renowned for supplying and installing clamp on gas flow meters for compressed air, nitrogen, natural gas, steam and countless other applications such as argon, helium and carbon dioxide.
Browse Gas Flowmeters >>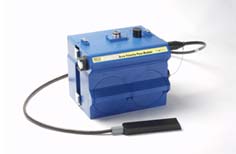 We stock and supply a comprehensive range of contact and non-contact open channel flow meters for sewers, MCERTS, CSOs, streams and rivers. We also supply the world's only laser-based profiling flow meter: the ISCO LaserFlow.
Browse Open Channel Flow Meters >>
Select your flow meter from our stock
RS Hydro stock a wide range of flow meters including electromagnetic flow meters, ultrasonic clamp on flow meters, turbine flow meters and open channel flowmeters. This ensures that you get the flow meter you want when you want.

If you need assistance at any point in the process, just call +44(0)1527 882060 and one of our technical staff will be glad to help.
Flow meters for all situations
RS Hydro offer an extensive range of flow meters covering all applications and in all industries. We supply and install contact and non-contact flow meters depending on application, pipe size and flow conditions.
We are internationally recognised as specialists in measuring difficult applications for any liquid, at any temperature, in any location worldwide. This includes any liquid, steam, compressed air, gas or water in closed pipes and water and effluent in open channels, rivers and part-full pipes. We provide a worldwide service for supply and installation of flow meters and flow measurement equipment whether it's onshore or offshore.
Flow meters for any situation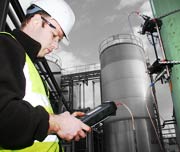 The recent emphasis on environmental monitoring and increased automation in many industries has resulted in a need for many more types of monitoring instruments, among them flow meters.
Flow meters generally fall into three different categories;
Liquid flow inside pipes
Gases flowing inside pipes
Liquids flowing in an open channel
For flows inside pipes (either gases or liquids) flow meters are generally classified as either wetted (in contact with the flowing sustance) or dry (not in contact with the flowing liquid). They can then be further classified as portable or fixed flow meters.
For our viewers convenience we have organised our website to conform to the above.