Large Pipe Flow Meters
MMonitoring flows in large diameter pipes is notoriously expensive. Today it is possible to measure flows in large pipes using retrofit intrusive and clamp on flow meter technology. Using insertion flow meters it is possible to monitor flows in pipes up to 6000mm in diameter and with clamp on flow meters up to 8000mm. Our range of flow measurement instruments for large pipes is shown below. If you need to consult with our technicians in order to choose the best solution for your application please feel free to contact us.
The ADFM Hot Tap Insertion Probe from Teledyne ISCO is the only sel-profiling insertion probe on the market and can be used on large diameter pipes at any location with a 2" tapping. The insertion meter can be used for f or wastewater applications and can be installed in locations with poor hydraulics.
View ADFM Insertion Probe >>
RS Hydro stock a full range of transit-time clamp on ultrasonic flowmeters that are ideal for use on large diameter pipes. We have regularly installed clamp on flowmeters on pipes up to 2000mm in less than a few hours. We have also installed quad-path ultrasonic flow meters providing <1% accuracy (of rate).
Browse Clamp-On Flowmeters >>
RS Hydro supply the full range of Siemens magflo flow meters ranging from DN25 to DN2000. Magflo meters offer superb accuracy (typically +/-0.25% of rate) and are available with a range of liners, electrodes and outputs. RS Hydro also stock a large range of Siemens 5100w magflo meters.
Browse Magflo Meters >>
Insertion Flow Meters
RS Hydro regularly install, hire and calibrate electromagnetic insertion meters and Quadrinas for measuring flows in relatively large pipes in the UK and overseas. Typical applications include meter verification and testing, trunk mains analysis, network modelling, permanent and temporary flow measurement and hydro power station flow measurement. Insertion probes are ideal for short- to medium-term flow survey projects.
Clamp On Flow Meters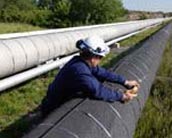 Non invasive clamp-on flow meters such as the Panametrics DF868 can be used to measure almost any liquid on any pipe size but due to their non-intrusive nature they can be installed without having to modify the pipeline. The clamp on sensors are simply strapped on to the outside of the pipe to ascertain the in-situ flow rates.
Clamp on flow measurement devices provide drift-free flow measurement in ultraclean to dirty liquids. This mode handles 80 percent of multiphase liquids-including fluids with gas bubbles, liquid droplets and entrained solids that previously required Doppler flow meters because conventional transit-time meters failed. Such transit time flow meters can be configured to dual channel to allow flow measurement in two different pipes, leak detection by measuring at two different locations on the same pipe and dual-path measurement at one location for maximum accuracy.
Again, installation and maintenance costs are minimal without any loss of accuracy or performance. Clamp on flow meters are available in fixed/stationary or portable formats. RS Hydro can provide flow meters rental and sale in the UK, Ireland and to any location in the world.
Magflo Meters
Magflo Meters provide excellent long term accuracy and stability and can be used to measure almost all electrically conducting liquids, slurries, pastes, acids, lyes, juices and emulsions . Pressure, density, temperature and viscosity have no influence on this type of flowmeter.
For applications where mains electricity is not readily sourced we can provide battery operated electromagnetic flowmeters. Our range of battery powered flowmeters contain the new 'SENSORPROM' memory unit which stores calibration information for the lifetime of the product.